A Century of Rural Banking in Rush County, Kansas
---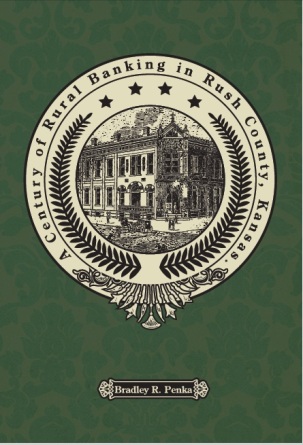 Paperback: $12.95
ISBN No. 978-0-98451-751-0
A detailed history of the banking industry in Rush County, Kansas
Published by the Rush County Historical Society
---
To order your copy of A Century of Rural Banking in Rush County, Kansas, please complete the application below or you may purchase the book at the following locations:
THE RUSH COUNTY NEWS
THE BARNARD LIBRARY
THE KANSAS BARBED WIRE MUSEUM
in LaCrosse, Kansas
STERNBERG MUSEUM OF NATURAL HISTORY
in Hays, Kansas
---
About the Book
Most rural Kansas towns had at least on bank sometime in their history and the stories often have a lot in common. A Century of Rural Banking in Rush County, Kansas tells the story of rural banking using Rush County as a model. It illustrates the evolution of rural banking from the first private real estate offices that offered only rudimentary banking services, to full-service, multi-branch, corporate operations. Over its 125 year history, two dozen banks were operated in Rush County. In the 1980s and early 1990s, the Federal Deposit Insurance Corporation closed over 1600 banks in the United States. During that period, of the nine remaining financial institutions in Rush County, five were closed and three were reorganized giving Rush County the dubious honor of having one of the highest percentages of bank closures in the United States. The book also includes a number of educational "side-bar" features about the banking industry in general. This is a must-read for history buffs, bankers, and students in the financial industry.
---
Order Form
To purchase your copy(s), please provide the following information:

---
MAIL PRINTED APPLICATION & PAYMENT TO:
Bank Book, Rush County Historical Society, P.O. Box 473, LaCrosse, KS 67548-0473