Join us for our spectacular Galactic Night Candlelight Banquet, a special evening in a special setting. Enjoy your meal by candlelight and enjoy live music and some fun entertainment. This year's banquet will be held in the La Crosse Country Club located on the site of the original country club, location of the first barbed wire banquets over 50 years ago. The club is located at 1st and Columbia Streets next to the golf course.
Following the banquet will be a short program, announcement of the splicing winners, Wireshow Awards Ceremony, and more.
$20.00 per person
Reservations are required
A limited number of tickets are available. Tickets may be reserved by registering on-line or by calling 785-222-2808.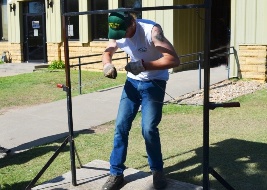 This will be the 52nd year for the World Champion Barbed Wire Splicing Contest™. The competition will be held on Saturday from 12:00pm until 2:00pm and is open to anyone.
Prizes will be awarded in three catagories: Men's, Ladies', and Youth division.
This year, we will be celebrating 4H with a special category for our area 4Hers. Many people don't realize that the splicing contest has a connection to the 4H organization in Kansas. In 1967, Rush County Agricultural Extension Agent E. L. VanMeter developed rules for the competition with assistance from Kansas State University Extension Service, Manhattan, sponsors of 4H programs in Kansas.
Splicing Contest rules and details available here.
This year our Geocaching Event will be dedicated to 4H and Barbed Wire. There will be 4 caches placed in a 7 mile radius of the La Crosse City Auditorium. Participants will be given a set of coordinates and clues to the location of the cache. Each cache will have some historical connection to 4H in Rush County. Participants will also have the opportunity to learn more about the history of Rush County.
Each cache will have 1 first to find card, and additional identification cards that should be removed and returned to the registration desk for validation. Prizes will be awarded for "First to Find," and for successfully locating each cache. There is no fee to participate.
We will be hosting a special kid's event on Saturday at 10:00am. Fans of all ages of the Star Wars® saga will love this event. Watch for details.
Youth Barbed Wire Splicing: Youth up to age 16 are invited to participate in the Barbed Wire Splicing Competition. The Youth Division rules allow for the use of smooth non-barbed wire and a 10 pound weight.
September 15 - Howard Barnard Day
Learn about Barnard's contributions to early 20th century education in Rush County. His innovative approach included a number of firsts: consolidated schools, hot lunches, school buses, and physical education classes.
Watch for more information