Join us for our spectacular A Taste of the Old West, a special evening in a special setting. Enjoy your meal by candlelight and enjoy live music and some fun entertainment. This year's banquet will be held in the La Crosse Country Club located on the site of the original country club, location of the first barbed wire banquets over 50 years ago. The club is located at 1st and Columbia Streets next to the golf course.
Following the banquet will be a short program, announcement of the splicing winners, Wireshow Awards Ceremony, and more.
$20.00 per person
Reservations are required
A limited number of tickets are available. Tickets may be reserved by registering on-line or by calling 785-222-2808.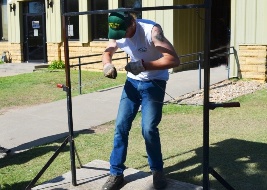 This will be the 54th year for the World Champion Barbed Wire Splicing Contest™. The competition will be held on Saturday from 12:00pm until 2:00pm and is open to anyone.
Prizes will be awarded in three catagories: Men's, Ladies', and Youth division. This year, we will have some great prizes for the winners in each category thanks to a generous sponsorship from the Bison State Bank.
This splicing contest has been a part of the festival since the beginning. In 1967, Rush County Agricultural Extension Agent E. L. VanMeter developed rules for the competition with assistance from Kansas State University Extension Service, Manhattan, sponsors of 4H programs in Kansas.
Splicing Contest rules and details available here.
Sponsored by:
This year we will take a break from the Geocaching Event. Check back next year.
Fort Hays State University Maker Van
We will be hosting a special kid's event on Saturday at 10:00am. Fort Hays State University Science & Mathematics Education Institute will be bringing their "Maker Van" to the La Crosse City Auditorium. Youth will have the opportunity for an educational project they can build while they learn about the science and technology of bridge building. Find out more at: www.fhsu.edu/smei/maker-van
Youth Barbed Wire Splicing:
Youth up to age 16 are invited to participate in the Barbed Wire Splicing Competition. The Youth Division rules allow for the use of smooth non-barbed wire and a 10 pound weight.
In May 2021, we will be celebrating the 50th Anniversary of the dedication of the Kansas Barbed Wire Museum.

This May will begin a year's worth of events as we look back on the beginnings of the museum in 1970 when Charles Kuralt paid a visit to the new museum that was in the beginning of construction. Twelve months later in 1971, the community of La Crosse dedicated the first ever museum of barbed wire.