Theatre Equipment Exhibited at Sternberg Museum in Hays, Kansas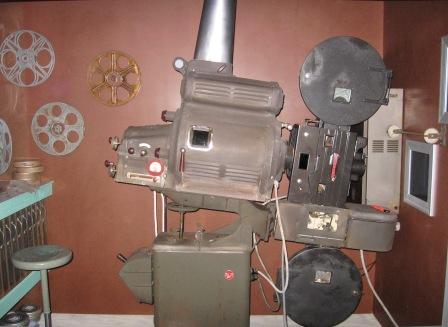 One of the original Brenkert BX-80 projectors from the Hil-Top Drive-In was restored and displayed at the Sternberg Museum of Natural History in Hays, Kansas. A mock projection booth and balcony included equipment from all three of LaCrosse's theatres along with memorabilia from area theatres and drive-ins. Pictured to the right is the Brenkert Projector mounted on a Brenkert Enarc Carbon Arc lamphouse and an RCA optical soundhead. On the wall to the front of and behind the projector is the "RCA Theatre Sound" sound processor used in the Hil-Top. The sound unit is believed to have been originally used in the LaCrosse Theatre on Main Street and later modified for use in the drive-in four years later.
Also on exhibit as part of the exhibition entitled, "Scaly Movie: Unnatural History in Movie Posters" was a collection of drive-in and theatre memorabilia from LaCrosse and area theatres. The mock balcony featured a pair original seats from the "Crest Theatre" in Great Bend and recovered seats from the balcony of the "Paramount" in La Crosse. A private collection of vintage drive-in speakers from drive-ins across the country exemplified a portion of the variety of styles manufactured between 1940 and the present.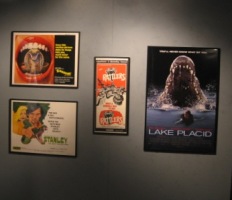 Through a collection of 70 vintage posters and a mock-up drive-in theatre, "Scaly Movie" looked at Hollywood's often unrealistic characterization of reptiles and amphibians. (See pictures below for a glimpse at some of the highlights.) The exhibition was on display during the summer of 2007 and closed on February 3, 2008. Following the exhibition, the projector and part of the equipment was moved to the Kansas Barbed Wire Museum for temporary display before being placed in storage at the Historical Museum. The Historical Society plans to place the equipment on public display again in the future. Watch for coming attractions.