The Invention That Tamed the West
Names like Wyatt Earp, Bat Masterson, or "Wild" Bill Hickock instantly conjure up images of a wild West. Alongside these men, there is another name, perhaps not as familiar, but important just the same. So important, in fact, that without him, the wild West may never have been tamed. He was a banker, a businessman, and a farmer. He even served as the Sheriff of his community. However, is it for one of his first inventions that he is most well remembered. His name was Joseph Glidden and his invention changed the lifestyle of midwestern settlers.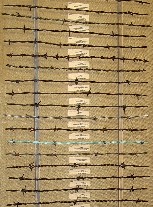 In 1874, Joseph Glidden designed and patented a type of wire fencing known as barbed wire. In a short time, his invention flourished into a multi-million dollar industry. "Cheaper than dirt and stronger than steel," was the slogan shouted by promoters of this new style fencing. Great expanses of prairie were soon divided; cattle and Bison could no longer roam freely across the plains. A new way of life was born; the West was being tamed. This new way of life did not to come without a price. Battles were fought both in the courtroom and on the range. There were few winners, and a lot of losers. Some people even paid with their lives.
The museum displays over 2000 varieties of barbed wire, each unique. In addition, displays of the tools and equipment used in fencing illustrate the inventiveness of pioneers and those with an eye for business in the late 19th and early 20th centuries.


Barbed Wire Goes to War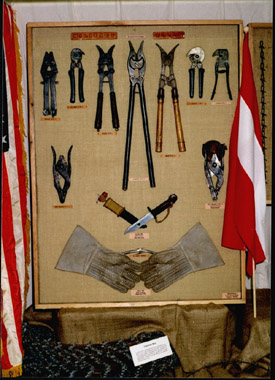 Twists of steel with razor sharp points glistening in the sun communicate the message "you're not welcome here." Originally invented as a means of restraining animals, barbed wire was soon modified as a successful means of restraining humans. Rolls of twisted barbed wire, known as concertina wire, first came into wide spread use during the first World War. It has been used in every military conflict of the 20th century as an effective deterrant to foot soldiers and land vehicles. Rolls of concertina wire were stretched like a spring over miles of hillsides and ravines. Razor sharp points on the wire could inflict painful wounds upon those who tried to cross over, through, or under a fence. The high tensile strength and elasticity of twisted concertina wire would hopelessly entangle large vehicles and equipment. Barbed wire had become a weapon of war.
A display of military wire and wire tools illustrates the significant role of barbed wire in 20th Century warfare. Although barbed wire had been originally invented as a deterant to livestock, it was quickly modified for use against humans.


"The Barbed Wire Capital of the World"TM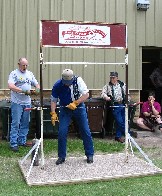 It has separated neighbor from neighbor, marked boundaries, and divided nations. Wealth has been gained from it, and lives have been lost because of it. Nevertheless, today barbed wire is bringing people together in LaCrosse, Kansas. Once a year barbed wire collectors from across the United States gather to buy, sell, and trade strands of what has been referred to as "the devils rope." LaCrosse is the home of the annual Kansas Barbed Wire Collectors Association (KBWCA) Swap and Sell, held during the first weekend in May. In 1967, the KBWCA's Swap & Sell weekend was the first show of its kind to be held. The Barbed Wire Show Archives explains how the Association grew from the idea of three businessmen to a gathering of over 2000 barbed wire collectors and enthusiasts. Today this annual festival continues to attract barbed wire and fencing tool collectors from many states. What would a meeting of collectors be without some "horse-trading"? Annual trading and selling of barbed wire offers participants and visitors the opportunity to display personal favorites and to set price trends. Exhibits feature displays of personal collections ranging from barbed wire to promotional items related to fencing. A World Champion Barbed Wire Splicing Contest puts participants fence mending skills to the test.
KBWCA members are among thousands of barbed wire and fencing tool collectors throughout the world. The KBWCA and other clubs across the nation provide collectors with an opportunity to share information, add to their collections, and to keep in contact with each other.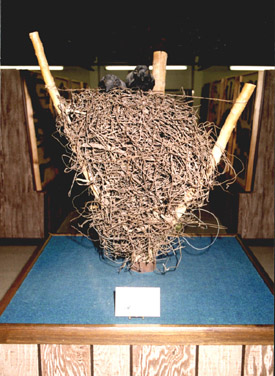 One of the most unusual specimens in the museums collection is an authentic Ravens nest built primarily of barbed wire. When Leo Schugart, engineer for the Missouri Pacific Railroad, discovered the unusual object in a tree in Greeley County near the railroad right-of-way, he returned to investigate. He collected the nest in the 1960s, and it was placed on display in the original museum in 1971. This massive nest is a tribute to the ingenuity of these feathered creatures.
[More]


The Museum as a Learning Center

The Larry Greer Research Center, located in the new Antique Barbed Wire Society annex, is the most extensive patent research library for barbed wire and related fencing items. The Center houses a comprehensive collection of fencing-related United States Patents, patent indices, and other reference materials. The Center is named after Larry Greer, a barbed wire collector who has dedicated over 30 years to conducting exhaustive research for fencing-related patents. Greer has published hundreds of articles in various magazines and club newsletters. The Center may be accessed during regular museum hours or by special arrangement.

The Donald Taylor Memorial Library, housed within the Larry Greer Research Center, is an extension of the research collections with books and publications related to the history of barbed wire and barbed wire collecting. The Library is named after Donald Taylor who was instrumental in the construction of the new museum in 1991. A portion of Taylor's personal wire collection has been developed into a traveling exhibition available to museums, libraries, and schools. At this time, library materials are only available for in-house research.

The Harold and Lanell Hagemeier Conference Room, also located in the new Antique Barbed Wire Society annex, is available for museum and Society programming and other community functions.

The Kansas Barbed Wire Museum is also the headquarters of The Antique Barbed Wire Society (ABWS). The ABWS offers certified appraisal services for barbed wire collections, information for new collectors, information for researchers, the official publication of the hobby, The Barbed Wire Collector, and more. Check out the ABWS website.

For even more history of barbed wire, visit the website of our sister museum, The Devils Rope Museum in McLean, Texas.

Memberships are available to the Kansas Barbed Wire Museum and the Kansas Barbed Wire Collectors' Association for persons interested in collecting or preserving the history of barbed wire. At present, the museum depends upon donations to meet operating expenses. Click on the link, or contact the museum for further information.