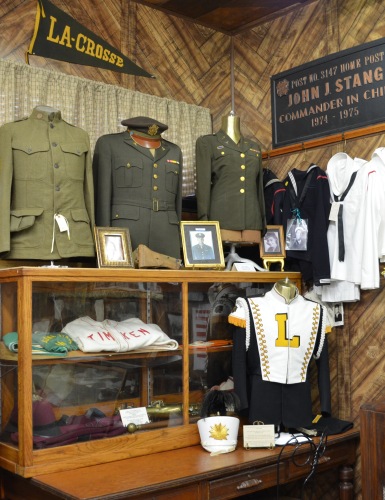 Rush County Historical Society Online Collections
Access to Rush County Historical Society's collection inventories is now available online. For those interested in learning what objects we have in our collection, we are placing these inventories online in searchable databases. You are invited to browse our collections inventories before your visit to help you determine objects that will be of the most interest. Our Post Rock Museum collections contain some very unique specimens in history, archeology, geology and paleontology.
In addition, we are in process of digitizing and making many of our photographic collections available to search, view, and download or purchase. This will be an ongoing project as we have a large number of images in our collection.
---
Online Collections Inventories:
Please note, this project is still under development and collections inventories are presently available only in non-searchable PDF form. Searchable forms will be available in the near future.
Post Rock Museum Collections Inventory
Archeology, Geology, Natural History, & Paleontology
Post Rock Museum Photographs Collection
Post Rock Museum, Post Rock Structures, Uses of Post Rock
Post Rock Limestone Structures Inventory - Rush County
Post Rock Structures, Lost Structures, All Things Post Rock Image Collection
---
Online Research Aids:
Genealogists and researchers, we now have downloadable guides to help you locate all cemeteries in the county with GPS location & driving directions. Also included is a listing of county historical sites with location and contact information.
This information is provided courtesy of Rush County Economic Development and made available for free download.
---
Online Photographs
Online photos in standard resolution are available for download at no charge. High resolution images are available for a fee. Please see permission and use fees below.
Rush County Online Photo Collections
Please note, this is a work in progress. We will continue to upload photos over the next few months so please keep checking back for updates and additions.
---
Permission and use fees:
All images are available for personal use only. The purchase of digital or printed images does not constitute permission to publish, exhibit, broadcast, etc. Images may be used on personal non-commercial websites as long as credit is issued to "The Rush County Historical Society" unless otherwise indicated. Anyone wanting to use materials from collections of the Rush County Historical Society must complete a permission form and pay any use fees, if applicable ---see permission form---. The Rush County Historical Society reserves the right to refuse to copy items in its collections due to condition, donor restrictions, or copyright restrictions.
---
Contact Us...
Contact Us for more information.
Contact us by phone at 785-222-2719 (in season only)
or Rush County Economic Development at 785-222-2808 during the off-season.
Rush County Historical Society
202 W. 1st Street
La Crosse, Kansas 67548