<!*********************Begin Content************************>
Featured Exhibits

The Spilger Barbed Wire Collection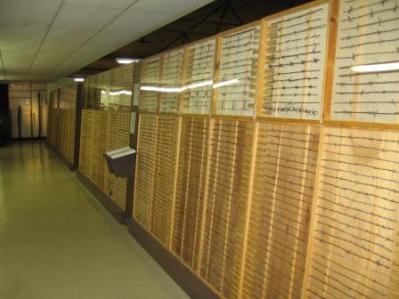 This collection of over 2100 unique samples of barbed wire is one of the largest of its kind in existence. Although only slightly over 500 wires were actually patented, this collection includes numerous similar, but unique variations of patented wires along with many home-made designs. The majority of all known types of barbed wire from the most common to the most unusual are displayed.
Spilger's collection has been left on the original display boards with original hand-written labels used while it was exhibited at various wire shows across the country. An exhibit guide details the history of the collection and when and where many of the wires were first acquired. This collection represents a lifetime of collecting by a single individual.

The Evolution of Barbed Wire
This exhibit traces the development of barbed wire through illustrations and examples of the many unsuccessful attempts prior to 1873. Included in the exhibit is an original piece of Henry Rose's "Wooden Rail," the fencing material exhibited at the DeKalb County Fair in 1873 that inspired Joseph Glidden to develop and patent his own barbed wire appropriately named "The Winner."
Visitors may watch barbed wire being made on a replica of Glidden's homemade wire making equipment. Learn how a coffee mill, a grind stone and some "farmer ingenuity" came together to create the first strands of barbed wire and launch an industry that reshaped the American frontier.
A recent addition to the exhibit explains the major role that barbed wire played in the development of one the major universities in the United States, Northern Illinois University in DeKalb.

The Fence Mender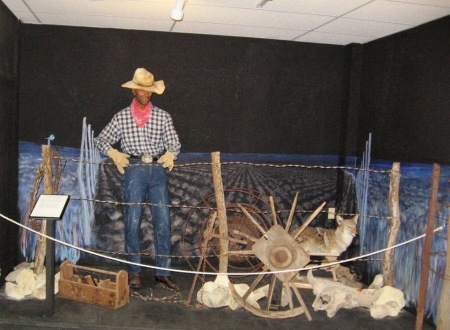 A life-size diorama depicts a cowboy repairing his broken fence line by light of the moon. Under the starry skies, viewers can almost hear the cattle lowing on the hillside behind the thin strands of wire that protect a freshly planted crop. Visitors will learn that farming and ranching work does not stop when the sun goes down.

Barbed Wire Liniments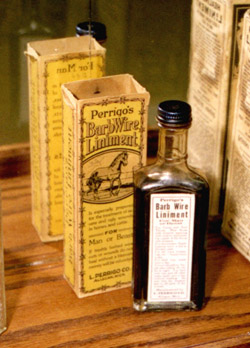 The collection of barbed wire liniment bottles and ointment tins is an outstanding example of late 19th and early 20th century medicinal wonders. These miracle medicines promised to "cure cuts and injuries caused by barbed wire...for man or beast." As you browse the collection, you will find some recognizable brand names and a few unheard of brands including one made in La Crosse at the end of the 19th century. This collection will conjure up images of traveling showmen crying, "It'll cure what ails ya' and only for a mere five cents a bottle..."

Punch Press Wires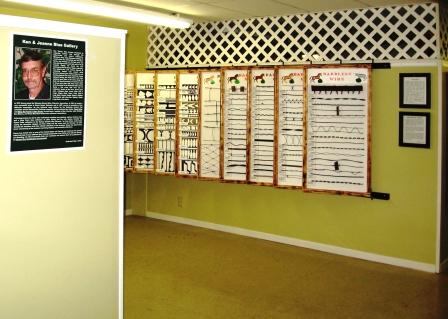 This recently completed display features an unusual fencing-related item, Punch Press Scrap. A Punch Press punches out blanks that are used to create machine parts, gears, and other metallic objects. The strips of metal that are left over are either melted down or recycled for other uses. The salvaged scrap metal strips exhibit an unusual and attractive pattern and have been used as decorative fencing and fence stays.
<!*********************End Content************************>