Preserving our Heritage...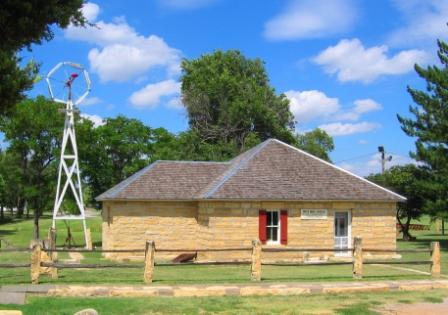 The Rush County Historical Society was originally organized in March of 1960 for the purpose of promoting a county observance of the Kansas centennial celebration. The society became inactive at the conclusion of the festivities until being reactivated in 1962 and incorporated in May 1963 with plans to develop a museum to preserve the history and tell the story of Post Rock. The first officers of the society were Roy Ehly, president; Oliver Wilhelm, vice-president; Harry Grass, secretary, and Stan Merrill, treasurer.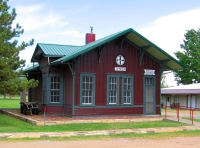 In 1975, the Society acquired the former Santa Fe depot in Timken and moved it to Grass Park in LaCrosse. On April 17, 1983, the building was dedicated as the Rush County Historical Museum. On exhibit are a selection of the tools, clothing, and other artifacts that depict the history and lifestyle of the county's residents. In recent years the building has undergone a series of improvements including a more authentic paint scheme and expanded research facilities.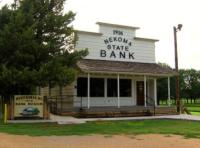 In May of 2003, the Society moved the former Nekoma State Bank building to their complex in Grass Park. Dedication ceremonies were held in May 2007. The interior of the bank has been fully restored to become a museum of rural banking. The museum's period lobby featuring the original 1916 counter and early 20th century furnishings immerses the visitor into a world of rural banking from long ago.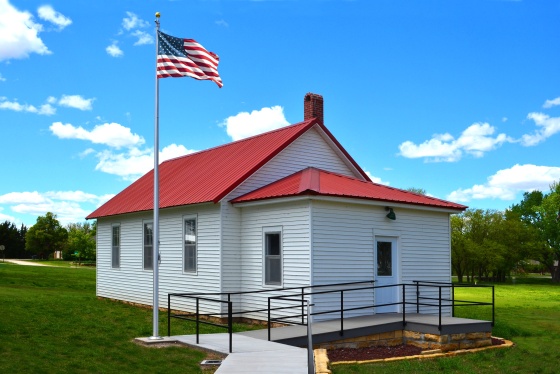 The Society's newest acquisition is the Pleasant Point One-Room School. This early 20th-century one-room school was moved from its rural Rush County location south of Nekoma to the museum complex in La Crosse. It is one of the last remaining from a time when there were over 80 school districts in the county of less than 10,000 people. Preserved within the school are most of the original furnishings, library and educational artifacts.
Continuing to Grow...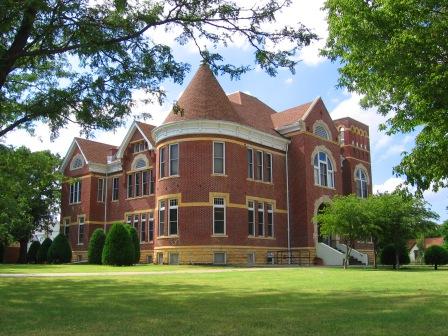 In addition to maintaining three historic properties, the Society continues to actively pursue the preservation of Rush County history and county historic sites with ongoing research and preservation efforts. The Society also has a long-term goal of constructing a permanent exhibition facility to properly conserve and display the growing number of artifacts in the collections.
---
More Ways to Learn...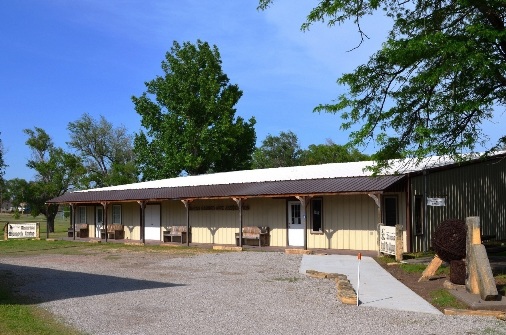 The Kansas Barbed Wire Museum is also located on the Rush County Historical Society campus. The museum, originally established downtown in 1970, presents interesting ways to learn about one of the midwest's most important contributions to America's history. Interpretive exhibits help to conjure up images of settling the midwest, range wars between homesteaders and cattlemen, and the transformation of the open prairie into America's bread basket. It is operated by the Kansas Barbed Wire Collectors Association, Inc.
---
Latest News:
<! ---Begin Editable News Content--->
Old Fashioned Christmas
November 24, 2017
Museums CLOSED for the season
Hours: Contact Us.
"Veterans of Rush County" Photo Information Form available for download.
Mark Your Calendars...
Old Fashioned Christmas
November 24, 2017
view the schedule from
Old Fashioned Christmas (PDF)
November 25, 2016
<! ---End Editable News Content--->
Special Projects:
Order Books:
Rush County...125 Years
in Story & Pictures
Special Programs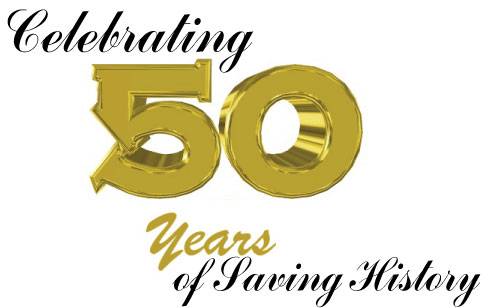 Join us for more special events. Check out our Special Programs Page for an up-to-date schedule of events.
Help us to bring a new level of education to our youth as we prepare our newest property, the Pleasant Point One-Room School on our museum campus. To learn more visit our Facebook page.
School Group Tours Program
Special school group tours are available each year. Participating classes receive classroom materials and supplies. Programs are available for all ages. Let us help you. For more information, check out our school tours page.
Rush County Fair Special Events
2016 - "People of Rush County"
Details & Rules
Information Form

2014-2016 - "Veterans of Rush County"
Details & Rules
Information Form

2013 - "Barns of Rush County"
Details & Rules
Contest Results
2012 - "Rush County Photo Treasures"
Details & Rules
Contest Results
2011 - "All Things Barbed Wire" Art Contest
Contest Results
2010 - "All Things Post Rock" Photo Contest
Contest Results
For pictures of recent events and the latest updates...